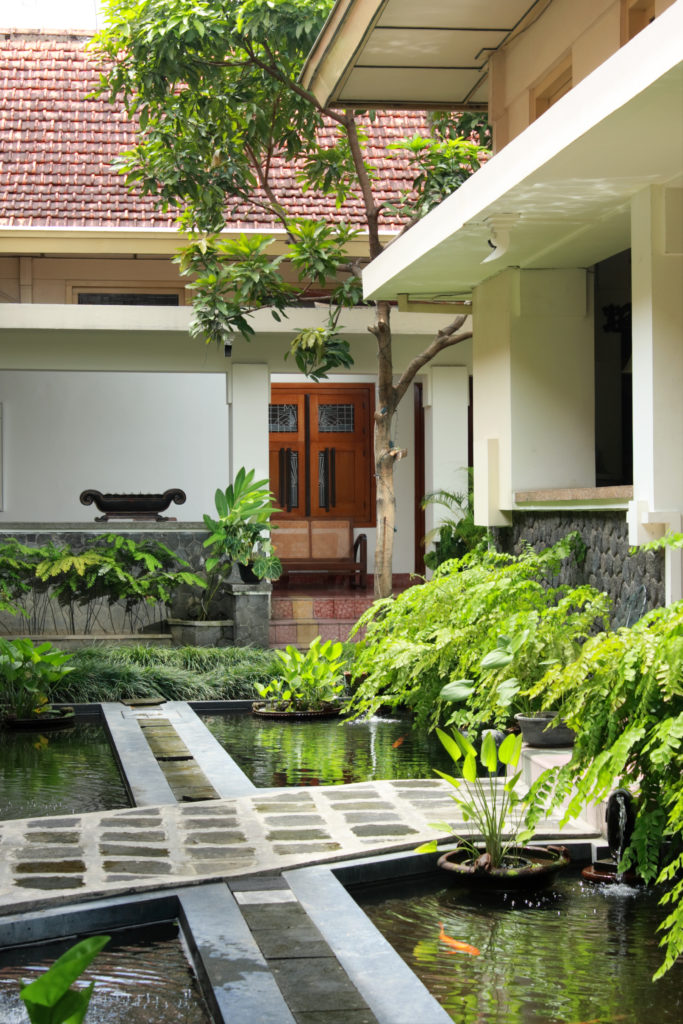 Upgrading and refurbishing a koi pond is a task aimed at improving its performance, aesthetic appeal and safety. However, the process is usually more complicated and, requires a better understanding of koi pond equipment, design and features as well as how they operate. This only means that you need an expert in order to ensure that the upgrade and refurbishment of your koi pond is done right and, also according to how you desire.
Koi Pond Singapore has the required expertise to deliver professional koi pond upgrade and refurbishment services. Our company has a fully-fledged team of engineers with proper training and experience in upgrading various koi pond equipment and components to not only improve the feature's functionality and beauty but, also efficiency in terms of maintenance costs. In fact, we can help you customize your koi pond to the desired standard without a lot of effort.
In most occasions, many people usually stay back until some parts or features of their ponds become ineffective to start running up and down in search of upgrade and refurbishment services. However, that is a course that you should never pursue since it comes with several risks. We always stay updated on new inventions or improvements of various koi pond equipment and, can always deliver timely upgrade so you are not caught up in the last minute rush for a solution.
How We Handle Koi Pond Upgrade & Refurbishment
Although there are several options for upgrading and refurbishing koi ponds, it does not guarantee that all are recommended for your pond. In fact, koi pond upgrade and refurbishment usually depends on the particular parts and components of the facility, its condition, your expectations and budget. As such, we will first begin with conducting an inspection of the various components or equipment of your koi pond. Besides, our experts will also take into account your personal needs and budget in order to determine the most suitable approach.
We always believe in transparency in every service that we offer. And, that is why every client is given a free quotation before we embark on the job. The free quote will highlight all the requirements for the upgrade and refurbishment procedure with regards to the materials or products, processes as well as total cost of the project.
Since koi pond upgrade and refurbishment can be conducted on one or more components of the pond, you can choose to hire our services for a particular feature or equipment. However, you can also opt for general koi pond upgrade and refurbishment services focused on all the components of the facility. In every situation, we can always deliver the best services that are tailored to your expectations.
There are various kinds of koi pond equipment and components that we can upgrade and refurbish including, plumbing system, koi pond pump, filter and filtration systems, skimmers, lighting among others. Whether you need just one or all of these components upgraded, our engineers have the expertise to offer quality workmanship. In fact, our services are quite comprehensive and can cater for all designs, sizes and styles of koi ponds.
In the minds of most people, koi pond upgrade and refurbishment is mainly focused on equipment and features. However, it should be noted that the exercise can also be extended to changing the vegetation or fishes in the pond. Even in such circumstances, we can still assist you in attaining the desired results. Our experts can also offer you advice on the best approaches to enhancing the functionality and beauty of your pond.
Considering koi pond upgrade and refurbishment can be conducted on various components, our company also offers quality koi pond products for clients to choose from. This means that whenever you need a new part or component fixed, you are able to easily get it too from us for convenience. By buying koi pond products from our company and hiring our engineers to do the upgrade, you will also be able to save so much money on the project.
In every koi pond upgrade and refurbishment project that we handle, our engineers will also make sure that the facility is tested upon completion. In this way, there is always no chance for mistakes, hence, greater satisfaction.
Hire Professional Koi Pond Upgrade and Refurbishment Singapore
Getting the right person to upgrade and refurbish your koi pond can be humiliating but, why take such risks when we can deliver the best services at your own convenience. For the most efficient, reliable and affordable koi pond upgrade and refurbishment Singapore, do not hesitate to talk to us.